In Switzerland, «the homeland» of apprenticeships, over 70% of applicants already apply via our systems. What has proven its worth here is what we now want to offer worldwide.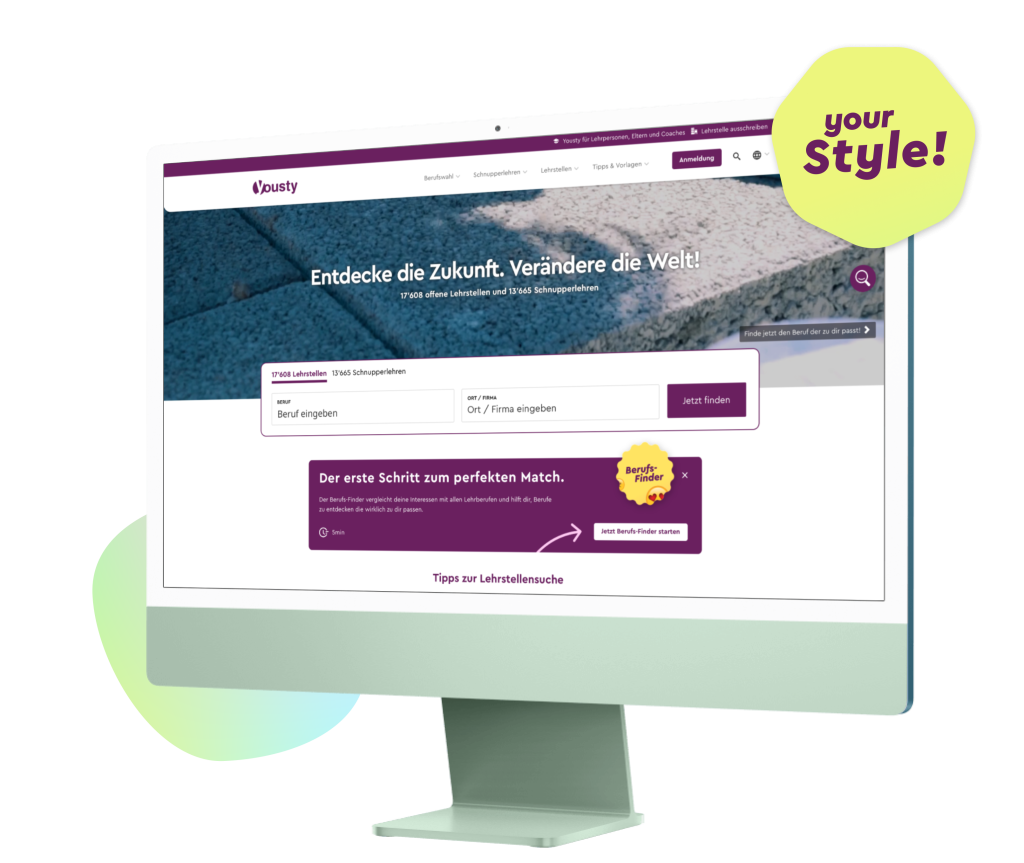 Yousty.ch is an independent vocational education and training (VET) portal with the greatest benefit for apprenticeship seekers and training companies. We bring the career choice process to life in an extraordinary way and create the perfect match for an ideal start into professional life.
Switzerland - example of success
Switzerland strongly beliefs in the dual education system which is one of a kind. Thank to this principle secondary school students can schoose between futher eduction in high school and apprenticeships at a company combined with vocational education. To learn more about this topic, we highly recommend reading the article linked below.
Students, parents, companies, associations, initiatives and state institutions in terms of professional education – Yousty brings them all together so that apprenticeships can establish and develop all around the world.
Domenica Mauch – CEO of yousty.ch
Yousty AG was founded in 2008 as a joint-stock company.
… employees based in Zurich (CH)
… partnerships with companies all over Switzerland.
…direct application sent through Yousty in 2021
Yousty AG was founded in 2008 as a joint-stock company.
… employees based in Zurich (CH)
… partnerships with companies all over Switzerland.
…direct application sent through Yousty in 2021
The people at Yousty community are young, dynamic and full of energy and ideas. They are different. They are all unique, but foremost they are one – one team and one community! We know the youth. We understand their needs and desires and we can speak "their language". We are completely convinced that VETs or apprenticeships are an outstanding way to start a career, not only in Switzerland but in the rest of the world too!
Supporting and guiding the youth on their career path
We at Yousty are convinced that young people will find their way careerwise. In order to achieve this they need support and guidance. As a result they will see VET as the perfect way for their career path, but that only with the use of appropriate tools.
Although Yousty is a platform for all stakeholders involved in professional education, the students are really at the core of what we do. All services on Yousty are completely free for students!
Information, descriptions and tools that showcase different types of professions (VETs)
Listing all available places for trainings or pre-trainings available for students to familiarise themselves with possibility to meet companies to gain comprehensive insight into vocational educational training
Online information, advise and examples for applicants to learn from
Option for online applications to companies directly on the platform
Another Yousty's goal is to help companies find their apprentices. With our platform we give enterprises the option to present themselves and their professions directly to students with a modern and youth-friendly profile.
Profiles to present the company and professions that they offer as apprenticeships
Advertising of available apprenticeships and pre-trainings as well as information events
Videos and pictures for better insight into the company
Communication with students through several channels such as social media
Tools for application management and pre-selections
Matching tools for suitability and tendency
Technology for widgets, white label software and individual solutions
VETs and apprenticeships are not only a thing between a student (candidate) and a company. There are also other people and stakeholders involved such as parents, teachers or coaches. Yousty does not forget about them and therefore also provides services for them.
A yearly, comprehensive brochure with lots of information and tips around career paths, choices, education system, VETs, applications and more. The brochure is available as print or online version.
A tool for teachers or parents for managing their class/child during the process of career choice and finding their further path in professional education
Possibility for official photo shooting for classes for their applications on the occasion of exhibition concerning career or professional education
Profession finder and aptitude test
How do you find the perfect match? How do you know which professions match your interests and skills?
We support young people with two tools free of charge. The first of them is the profession finder (an aptitude assessment). 33 questions, regarding interests, are being answered in a playful way using emojis (e.g. do you like working with wood; are you free from giddiness; do you like advising people). At the end, the recipients receive an overview of the 20 most suitable apprenticeships. This helps young people to get an overview over suitable professions. Once you know what you are interested in, the aptitude test (Berufs-Check) is additionally helpful. With this test young people find out whether their academic abilities match those of the profession. These two tools help the young people to find their way in the – for them still unknown – world of work.
Yousty is convinced: What works in Switzerland can work in the whole world. We want to bring our ideas, tools and services to other countries to enable the same. Yousty wants to enhance and improve the world of professional education.

Therefore we offer our platform in terms of technology, services and systems to you. Are you interested? Do you want to find out more about Yousty and our platform, system, services or technology? We look forward to get in touch with you!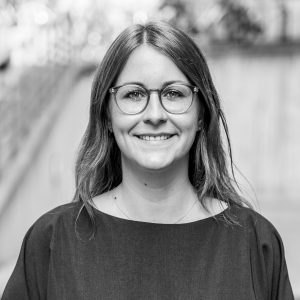 CEO & director of education/brand